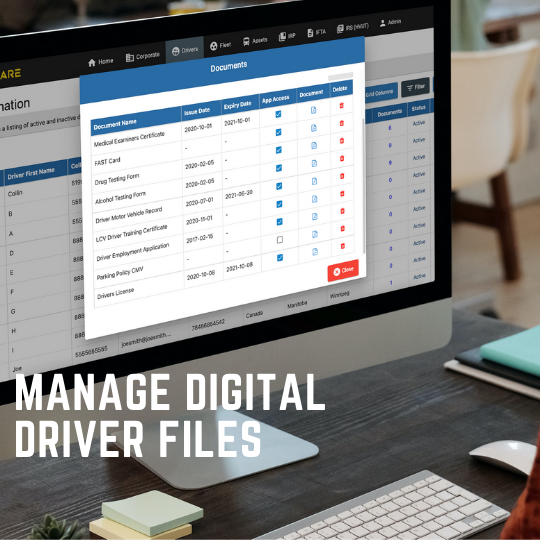 PermiShare is a low cost digital driver file management platform with an incredible number of features!
Maintaining up to date driver files can be a constant challenge for today's fleet operators. Driver turnover remains high and keeping track of the information and documents required to be in compliance with provincial/state and federal trucking regulations can become overwhelming. PermiShare has simplified driver file management by creating a user-friendly interface to manage all the information and documents related your active driver pool. PermiShare administrators create a driver profile in the web-based portal and add the required documents to their profile to ensure they have complete records.
A New Way To Manage Digital Driver Files
To assist with managing the ongoing validity of driver documents, administrators simply set an expiry date for each licence, permit, credential, or document. PermiShare's automated alerts feature provides both a portal and email alert when a document's expiration approaches thereby eliminating the guesswork in managing compliance. Alerts can be customized to provide reminders at intervals of 30, 60 or 90 days and remain visible on your main dashboard until they are dismissed. Don't let permit renewals slip through the cracks again!
Paper based driver files are difficult to keep organized and are only accessible when at the office. With many employees working remotely than ever before and virtual audits on the rise, serious issues can arise. Administrators and safety personnel need a digital driver file system to have documents efficiently organized and accessible regardless of their location. PermiShare provides the perfect solution.
View. Share. Be Compliant.
Some driver file management platforms may utilize web-based platforms however PermiShare is the first to include a mobile app for your drivers to access their permits while on the road. Not only will you want to track and store documents internally, but you may wish to provide secure access to select documents to your drivers. When a permit is added to PermiShare, administrators simply click the 'App Access' checkbox to instantly provide access to the document for a specific driver.
PermiShare starts at just $15 per month for 1-2 equipment assets and there are no limits on the number of driver profiles you can create! To select your plan and get started today, Click here.