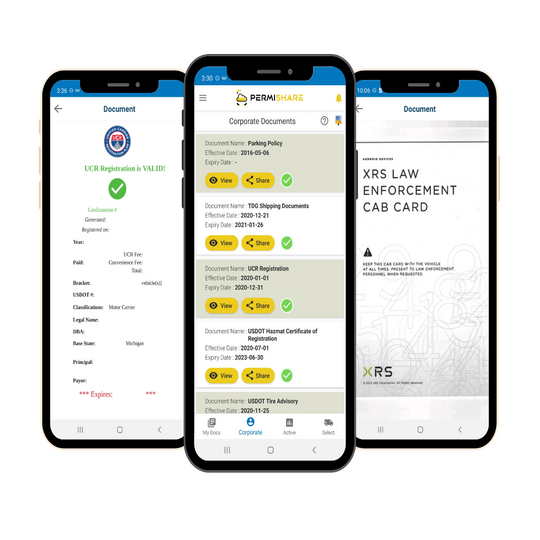 Over the last few years, the trucking industry has experienced a steady digitization trend sparked by the mandated implementation of electronic logging devices (ELD's). ELD's and electronic pre-trip inspections have replaced the paper records that drivers of commercial motor vehicles were required to complete and carry. Some forward-thinking trucking companies are also expanding their use of digital documentation by using electronic shipping documents and e-BOL's. Despite the many benefits of a digital permit book, most trucking fleets in North America continue to carry paper copies of corporate, driver and vehicle related authorities, permits and documents in the cabs of their trucks.
Digital permit books give access to electronic permits and compliance documentation, can be remotely provided, modified, or removed by motor carrier staff and eliminate the need for drivers to visit a terminal or office. Every improved process you provide is another advantage you give yourself in attracting and retaining your most important asset – your drivers.
Outside of removing paper from your trucks to reduce clutter there are a wide range of benefits when you digitize driver permit books. Presently, updates to paper permits books require your trucks to be physically in the yard while having an employee ready with printed documents to distribute, an inconvenient situation to manage in most cases. With a connected web platform for document management, electronic permit books can be updated instantly for the driver, even while trucks are in motion on the other side of the country.
Digitizing permit books brings improved information sharing experiences for entire teams, from in-office employees to drivers out on the road. Drivers benefit from the realization that from a permit and documentation perspective they are completely covered and always have up to date documents. Safety and compliance staff benefit from the knowledge that they can immediately manage document distribution tasks for all their drivers with just the click of a mouse.
Drivers save precious time at scales, during routine stops and at delivery sites by displaying and sharing digital documents.
If you are considering a permit book digitization strategy for your trucking fleet but are unsure where to start, consider these 3 tips:
Remove Barriers – Moving to digital permit books requires you to remove the barriers for drivers to access electronic documents. A digitization strategy that includes a mobile application specifically for drivers will provide them with immediate and secure access to digital documents regardless of their location.
Streamline Processes – Digitization enables you to streamline processes and make it possible to redefine how your drivers complete their job. Drivers save precious time at scales, during routine stops and at delivery sites by displaying and sharing digital documents with just a few taps on their mobile device.
Automate Tasks – Maintain up-to-date permits, compliance files and driver permit books with the help of automation. Use a platform that provides dashboard or email alerts to monitor when compliance documents are set to expire and ensure that in-office staff can effectively manage renewals and other time sensitive compliance tasks. When automation is utilized, fleets can be proactive rather than focusing on regulatory crisis management.
The digitization trend is inevitably going to transform information and document distribution throughout the entire transportation industry. Fleets that are not looking ahead and planning for digitization are putting themselves at a competitive disadvantage. If you take a close look at the daily routines of your drivers and safety staff, you can quickly see the case for adopting a digital permit book.
—-
PermiShare is a new trucking software company that provides its users with a cloud-based compliance portal and driver electronic permit book app.
View https://www.permishare.com/features/ to learn more or contact us directly at sales@permishare.com.